What to Expect…
You'll play music for at least 90% of your lesson
Every lesson is a combination of hands-on playing, active listening and reflection. If we're not playing, we'll be learning a concept or technique — which will make the hands-on playing part more effective. Sometimes, we'll listen to a song and learn to appreciate the nuances. You'll learn to hear how the musicians are playing off of each other, a special crafting of the lyrics, variations on the theme, and so on.

What to bring to your lessons
For most lessons, all you have to bring is yourself, your instrument, and the songs you want to play.
If you're playing an electric instrument, you'll need to have an amp and cable at home. I can supply the amp and cable during the lesson.
If you want to learn specific songs, send me a list of songs you wish you could play. If possible, send it before your first lesson — that's a big help. Make yourself a playlist on iTunes or a CD to practice playing along with.
You are welcome to bring in mp3 players, i-Pods, tablets, laptops or i-Phones to use during the lesson.
Some folks use a cell phone, digital recorder, laptop or hand-held video recorder or camera with video to record a brief summary of the lesson at the end of the lesson. This is extremely helpful for most people.
Some adults play their lesson summary on the car music system — this can provide reinforcement between lessons to help get the song "in your head." If a song's in your head, it'll come out your fingers more easily.
Once the lesson is recorded, some students bring in a laptop to play back the video and ask questions about specific portions of the video.
Or, just keep it simple! You are totally welcome to be low-tech, and show up, take the lesson and related paperwork…and leave feeling better than you did when you came in. Actually, this is what most people do.
Learning can continue outside your lessons, too.
When a song has a history over several decades or genres, I'll give you a listening and/or viewing assignment so that you can hear renditions by other artists.
For example, imagine that we're working on a Counting Crows version of "Big Yellow Taxi." It's in a different tuning, and it has a totally different feel than Joni Mitchell's original. Now, we'll compare it to the recently released version on Herbie Hancock's "River." Wow! Listening assignments help you appreciate the influences that shape the song you like.
Or, we might take a standard, like "Stormy Monday" and contrast the soloing styles and chordal harmony of T-Bone Walker ('50s) vs. Wayne Perkins (Bobby Blue Bland — '60s) vs. the Allman Brothers ('70s).
For a student interested in a particular artist, I may suggest going online and to the public library to explore the artist's influences. For example, topics might be to research the influences and inspirations of Derek Trucks, the Rolling Stones, Sam Bush, Charlie Parker, Django Reinhardt. This broadens awareness of more styles and how music develops over time.
Coming by bike? Riding the bus? Too hot or cold to leave your instrument in the car while you're working? No time to spare to get home to get your instrument before your lesson? Just come straight here and ask for "the spare."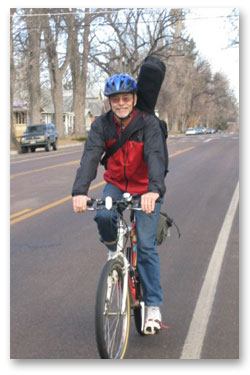 "Biking to lessons with Ellen is easy!" — Eric Hermann, disobeying the rules of the road, for the sake of the picture only.