How It Happened…
A long musical journey
Sometimes people ask me how I became a musician and a teacher. Besides an innate passion I seem to have been born with, most of what I am today came about by meeting people like me who love music and the stories songs tell.
These folks shared their knowledge with me. It is impossible to recount my story without mentioning the influence of others at every turn. This is more or less how it all happened.
Dreaming of music in an apple tree
I remember sitting in a favorite apple tree when I was 6 years old, with my friends David and Marilyn. We were talking about what we wanted to be when we grew up. I had just seen the Beatles on the Ed Sullivan show, and I wanted to be a guitar player. David wanted to be a drummer. Marilyn wanted to be a teacher.
Well, we've come a long way bringing those apple-tree dreams to life. David did indeed become a drummer – and software engineer and a classical pianist (for fun). Marilyn became a school teacher – and a pianist who now does outreach to folks in need. I remained a music nut, and became a guitarist, mandolinist and lover of all things musical.
I begged my Dad to get me a guitar, but he declined my requests. One of my older brothers had been performing by age 6 on the baritone ukulele. He and Dad got into practice wars (my brother's lesson was during the TV show "Lassie," which didn't help.) My brother quit playing for several years, and my Dad's response for the next six years was, "We're not doing that again!"
I closed my closet door and sang with Frankie Valli at the top of my lungs: Big Girls Don't Cry! I listened to Elvis Presley's "In the Ghetto" over and over…it was the first song that gave me the feeling of watching a movie…like I was actually watching a story unfold.
Music was all around
My siblings exposed me to Elvis Presley, the Byrds, the Beach Boys, the Rolling Stones, The Ventures, Peter, Paul and Mary, Bob Dylan, Joan Baez and Judy Collins. A Judy Collins concert at age twelve moved me to tears, and I knew I wanted to be in music.
When my brother was home from college, I pestered him to teach me some things – FINALLY. Once I learned everything he knew, he persuaded me to take lessons from his teacher, Eileen Niehouse at the Denver Folklore Center.
Eileen introduced me to fingerpicking, Steve Mann, Janis Joplin, Jimi Hendrix and the music of Judy Roderick. From there, I started studying country blues with Craig Rasmussen. He sold me on the wonder of Mississippi John Hurt, Sleepy John Estes, Blind Blake, Bert Jansch, John Renbourn, Marc Silber and Scott Joplin, among others. Then he started trying to teach me to read music, but I wanted to just keep playing by ear. This could've given me more options earlier, if I'd just stuck with it then! Unfortunately I didn't learn to read until 8 years later, but I have an appreciation for the hurdle reading music can be and the great rewards of persevering!
I went to a public school that was really progressive for the time. In eighth grade, my English teacher, Joan Hodgkinson, taught an eight week "Appalachian Studies program" which featured the "Foxfire" books and vinyl recordings she got from the Denver Public Library. Among them were recordings of Hazel Dickens and the Doc Watson family. I borrowed them all, and was struck by the storytelling, and the human tragedies and triumphs in the mining songs. On the "Doc Watson Family" album, was a song called "Texas Gales." I heard the mandolin for the first time and developed "mandolin on the brain" immediately and permanently. Not long after, my friend Ben and I discovered the "Will the Circle be Unbroken" album. Flatpicking on guitar and mandolin became a new focus.
In another English class, another great teacher named Merilee Long, played the first Joni Mitchell album as we learned to write poetry and short stories. My love of lyrics deepened. Though I've not been a songwriter myself, I love the stories they tell.
Through junior high school and high school, I played with my neighborhood buddies and my friend Jim Moore. He and I loved to make reel-to-reel tapes of the songs we were making up. He got me into David Bromberg. Together we got into Bruce Cockburn, Leo Kottke and playing slide guitar.
Friends sharing music
In eighth grade, I met my friend Brent Hawley at an ecology training. He was studying forestry in college, and I was in an environmental studies program with my school. We were up at a mountain campus, learning about mountain eco-systems. Through the grapevine, I heard he was a really good guitar and mandolin player, so my friends and I parked on the cafeteria steps where he couldn't help but hear us playing. That resulted in a couple trips over to his cabin, where I learned lots of songs, and how to make bisquick bread on a stick over a wooden stove.
My brother Bill lived near Telluride, so I was at the many of the early Telluride festivals. It was there at the first festival that I woke up under an aspen tree while Tim O'Brien was perfecting a fiddle tune. I thought that was the most beautiful thing I'd ever heard. His music and songcraft continue to move and inspire people everywhere.
Brent stopped by anytime he was in Denver, making me tapes of mandolin tunes that I learned by ear. Later, my college choice (CSU) would solely be determined by being in same town so we could play music together.
Ruling out the piano and building instruments!
At CSU, I tried music therapy, and became a piano major, since at the time they didn't offer a guitar or mandolin major. That was disaster, but I did learn a bit about reading music. From there, I majored in industrial arts and experimented with instrument making, and found it was better that other people do that! Not long after, I heard "With Care from Someone" on the first New Grass Revival album, and found I could no longer focus on school when there was this great new style of mandolin to be learned.
Discovering music on the road
I spent a couple of years traveling a lot, going to bluegrass festivals, playing in contests and visiting the Appalachians. The big highlights were meeting John Jackson, Hazel Dickens, Tommy Jarrell, and the Balfa Brothers. Curtis Burch spent about an hour giving me some crosspicking tips at one of the first Telluride festivals and that changed everything. I started doing a folk show on the college station, and learned a lot about the roots of folk and celtic music and continued exploring country blues. There were a couple of outstanding jazz DJs working there, and I became saturated in the music of John Coltrane, Clifford Brown, Charlie Christian, Billie Holiday, Duke Ellington, Milt Jackson, and Kenny Barron.
Not long after, I met my husband Doug, who was and still is a great connoisseur of all kinds of music. We soon traveled together on a Chautauqua tour, playing music in small towns as part of a troupe of artists – dancers, visual artists, a magician & juggler, theatre folks. Doug was the lighting technician, and I was in a Folk–Celtic trio. Pat Donohue was on that tour, and provided a lot of inspiration and just the right amount of encouragement.
Shelley Rhym, a jazz drummer (Billie Holiday) was also on that tour, and helped me memorize every note in almost every chord imaginable, in every key. He could hum and name note you should have played, on the fly. For his joyful sharing of his knowledge and music, and letting me do the work, I am forever grateful. Shelley grew up on Welton Street in Denver, two doors down from The Rossonian. Musicians like Duke Ellington, Count Basie, Fats Dominoe and Ella Fitzgerald played there on their way to the west coast. He was inspired by them in the late 30s and early 40s.
In 1978, I was asked to join the Mother Folkers. The Mother Folkers ("MoFos") took a sabbatical after 25 years, after a productive and special ride. Comprised of female musicians from Colorado's Front Range, from all kinds of musical backgrounds, it was a really supportive and creative environment. We collaborated on mostly original tunes and recorded three albums, performing a series of new live shows every spring. Our mission was something to the effect of converting laughter and carbohydrates (consumed at practices) to music. I played primarily mandolin, and continued to learn to play many styles of music.
I was working in a great live music venue, where folks like the Amazing Rhythm Aces, Ray Bonneville, the Ophelia Swing Band and the Country Gentlemen played. I could take my instruments to work and listened, danced, and jammed a lot. Later, I worked at the Denver Folklore Center while playing around Denver. Meantime, I was developing a strong interest in cooking.
In search of food, we found new music
In 1980 Doug and I moved to Poughkeepsie, New York, so I could study at the Culinary Institute of America (2 years and 2 fellowships). Lo and behold, we found ourselves in a hotbed of contra dance music. A slight Quebocois influence drifted into the music from Canada. Tim introduced us to Molly Mason, and we became fast friends. Molly can draw the feeling from a song in a rhythmic sense better than anyone I've ever met. Jay Ungar gets "the feel" like few are able (he's a composer of many enchanting tunes, including "Ashokan Farewell"). Dave Davies was a big influence on the guitar, giving me the encouragement to try to play jazz and bebop ("try" being the key word.). We went to a lot of great contra dances where Jay, Molly and Pete Jung played. Doug would dance with everyone, and I'd learn tunes in the background.
Doug and I spent the summers on Long Island, and countless months playing tunes together and listening to great musicians like Tiny Grimes, David Sanborn and Don Elliott (playing vibes in a small club, instead of the trumpet).
A soccer mom begins teaching music - and learning even more
In '86 we moved back to Fort Collins. Our lives revolved around the regular jobs, youth soccer, the Mother Folkers and our show "All Tunes Considered" at the radio station KCSU. In 1996, local musician and teacher Andy May moved to Nashville. He convinced me to take his students, gave me tips that helped me be successful, and I've been teaching ever since.
When the MoFos took a break, I began studying with jazz musician and teacher Dale Bruning. This was an endeavor I'd wanted to pursue for more than 20 years but time and money hadn't previously coincided. Dale is one of the world greats of jazz, both as musician, composer, arranger, and educator (though he would never tell you that). He's treasured by people who know him and is a wonderful person. He grew up frequenting the jazz clubs of New York City as a teenager, and saw first-hand the evolution of bebop. He learned a lot about Cuban music stationed there with a Navy band.
It's been a total honor, privilege and constant source of amazement to study with Dale. Because of his guidance, so many things are possible, and I am daily and forever grateful for his brilliance and gentle uniqueness. I am awed by how much time he's spent studying, refining, and steeping himself in beautiful sounds and musical mystery.
What's up now
Doug co-hosts the "River of Soul" and a "Morning Mix" show at our local public radio station www.krfcfm.org. He and I, and our friend Brent alternate hosting MandoScapes featuring music from the mandolin family and related instruments. I sometimes fill in on the "African Vibe" show on Friday mornings. Our house is often filled with music as we're preparing for one show or another. In music and life, I've been a good accompaniest, and a supporting cast for others. When the kids are on their own, I hope to be mixing traveling and performing in with teaching.
I'm grateful to have wonderful students with a wide swath of interests and abilities, and all with a passion for music. The last 7 years or so, I've been immersed in choro, jazz and classical mandolin and, in the last couple of years, captivated by R&B, acoustic African guitar, African Jazz and Afro-Pop.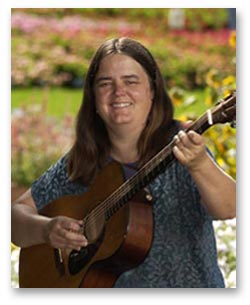 Ellen...yes, I usually play with a strap.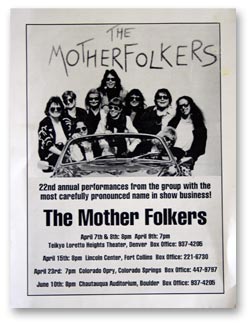 The Mother Folkers, from left to right: Ellen Audley, Jean Harrison, Julie Hoest, Mary Stribling, Suzy Nelson (top), Bonnie Carol (middle), Vickie Taylor, Eileen Niehouse, Rebecca Leonard, Ellen Klaver. Graffiti courtesy of Dede Leroux.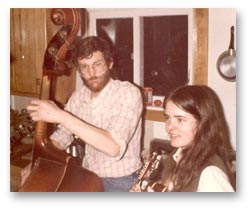 Curt Amason and Ellen, circa 1975
"I remember how I didn't necessarily enjoy weeding the garden. Many times it would be made much easier, because our next door neighbor Ellen would be in her back yard delightedly singing at the top of her lungs. She was about 8 years old then, I think."
— Fred Hicks
"Walking up the steps at my 30th high school reunion, I was exchanging puzzled gazes with a fellow I'd not known well in high school and hadn't seen since. We were each trying to time-morph each other's face. I said, "I don't remember your name, but I know you were an excellent gymnast." He replied, "I don't remember your name either, but you're that girl who loved to play guitar!"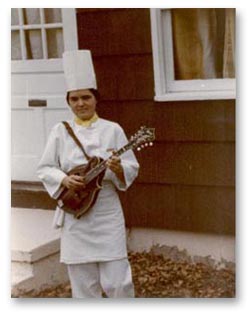 "Patti de Fois Gras," Hyde Park, NY, 1980.
"People who make music together cannot be enemies, at least while the music lasts."
—Paul Hindemuth, German composer, 1985 - 1963