About Ellen…
Ellen Audley is…
A musician
A continuous learner and teacher
An adventurous and a curious listener of many genres and eras of music
A disc jockey
An insatiable reader about all things musical — musicians, music, music and the brain, teaching strategies, instructional design
A graduate of the Culinary Institute of America
A wife, mother, soccer Mom, Colorado native, lover of people, animals, nature, cooking, and gardens
Ellen Audley is also…
A member of:
The Mother Folkers — a group of women musicians and vocalists, featuring primarily original music in a wide variety of styles, with concerts spanning four decades.
The American Mandolin and Guitar Orchestra (AMGO) — (Summer School version) www.marilynnmair.com/amgo.shtml
The Classical Mandolin Society of America (CMSA)
The department of "Training and Organizational Development" at Colorado State University
A past attendee at an assortment of quality musical events:
The New Orleans Jazz and Heritage Festival - 1 year
American Mandolin and Guitar Summer School (AMGuSS) - 3 years
The Mandolin Symposium - 1 year
CMSA Convention - 2 years
Summerkeys - 1 years
And…
Ashokan full moon dances, Halloween and New Years Events
Walnut Valley Festival (Winfield, Kansas)
Early Telluride Bluegrass Festivals
Contra dances in the Hudson River Valley
Private lessons with Tim O'Brien, Dale Bruning, Marilyn Mair, Tamara Volskaya, and Radim Zenkl
On the radio:
Former co-host for eight years of "MandoScapes" on KRFC-FM of Fort Collins, Colorado (2003-2012)

Occasional guest host for "The African Vibe," World Music and Sunday night jazz on KRFC-FM 88.9 FM or stream live)
Co-host of "All-Tunes Considered" with Doug Audley, 1983-1993
Former host of "The Folk Show" on KCSU FM, Fort Collins, 1976-1980
A performer:
Multi-instrumentalist on electric and acoustic insturments with "The Mother Folkers," Julie Hoest, and accompanist for numerous bands, songwriters and recordings
Colorado Chautauqua Tour, Summer of 1980. Toured Colorado bringing the arts to small towns. The entourage featured modern dance, ballet, adult theatre, children's theatre, jugglers, magicians, textile artists, photographers, weavers, cooks, truckdrivers, lighting and sound technicians, and four types of bands: Jazz, Classical, Irish instrumental and American Folk, and Rock.
A huge fan of:
Bill Frisell, Louis Mhlanga, Sam Bush, George Marinelli, Kevin Breit, Orville Johnson, Charlie Haden, Ray Barretto, Solomon Burke, Bonnie Raitt, Hamilton de Holanda, Randall Bramlett, Greg Leisz, Steve Cropper, Derwin "Big D" Perkins, Joe Zawinul, Peter Ostroushko, Bob Brookmeyer, Moacir Santos, Vincent Nguini, Ray Phiri, Bakithi Kumalo, Marks Mankwane, Mark Knopfler, Dick Hyman, Buddy Guy...

Jon Cleary, Mississippi John Hurt, Doc Watson, Tim O'Brien, Mary Flower, Darrell Scott, Casey Driessen, Adam Larrabee, John Miller, Victor Wooten, U. Srinivas, Irma Thomas, Lonnie Johnson, Ricky Fataar, Steve Gadd, Herlin Riley, Sonny Rollins, Claudio Roditi, Don Grolnick, Don Stiernberg, Studs Terkel, Oscar Moore, Will Patton, Nate Bray, Joel Nascimento, Toumani Diabate, Ry Cooder, Victor Gaskin, James "Hutch" Hutchinson, Jim Hall, Dale Bruning and many, many more…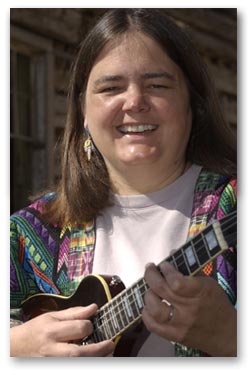 Ellen with Earnest 5-string electric semi-hollow body mandolin. In the background, cabin of early settlers in Fort Collins, Colorado.