Thanks!
I'm grateful for the folks that have inspired, nudged, shoved, supported, grabbed me by the collar, and guided me as I've explored music-making, learning and teaching. Because of them, I'm privileged to sustain a musical life. I'd like to thank just a few of them:
I'd like to thank just a few of them:
Doug Audley, my partner in life, music and radio. You never cease to amaze me with your timely and obscure musical knowledge, insight, and taste.
All of my students past and present, and the people who support them. They've enlightened me to the music they love, become friends, and made it possible to make part of a living teaching music.
Dale Bruning, Shelley Rhym, Tim O'Brien, Eileen Niehouse and Craig Rasmussen for being my teachers. And my brother Bill, innately a great teacher, and musician.
My Mom, Virginia, who drove me to lessons, survived hearing the same songs hundreds of times, and still loves to hear my brother and me play.
Thanks to my Dad, John, who loved to dance, had a photographic memory for lyrics, could whistle any melody, and loved everything from big bands and bossa nova to Eric Clapton and Big Bad Voodoo Daddy. Thanks also, to his brother Bill for all the magical '40s big band radio recordings, and to his mother, who loved music and kept it playing in the house almost non-stop.
My "godfather" Ray Hughes, who had a laid back attitude and a love of life. He and my Dad were buddies. He shared his love of cowboy music with everyone who would listen. Spinning 78s and 45s with him was one of my favorite activities while growing up. He loaned me my first mandolin, and loved the sound of tremolo.
My "godmother" Mary Jane "Jim" Hughes, who loved music, laughter and loved all people, just the way they are.
Dan and Arbie Rogers, for being like family, and providing a place where I always had love, a job and a second toothbrush.
Mary Flower, Bonnie Carol, Andy May, Phoebe Busch and Nancy Miller for encouraging me to teach.
Tim O'Brien, Linda Joseph, and Tom Driessen for encouraging me to read music and helping me learn. To Judith Fallat and Mary Spencer for being inspirational in reading.
Nancy Miller, Pheobe Busch, Merilee Long, Joan Hodgkinson, Mary Beth Anderson and Ann Chamberlain — all school teachers who taught me to think inside and outside of the box and encouraged the fire for learning.
Ken Seaman, who may love bluegrass more than anyone on the planet and taught a lot folks how to play and sing harmony as part of a great local jam scene. Tom Eaton, Brent Hawley, Dave Harrington, Lenny Ewy and Dave Evans being great musical pals and jam mates. Mitchell Land for teaching me to crosspick in altered mandolin tunings that he learned from Nate Bray.
Sonja Bronstein, who knows and shares the joys of listening to classical music, particularly the mandolin. Marilyn Amer who can rock the house with classical music while creating unbelievable culinary feasts. Jules Amer, who always had an open ear and insightful questions for the kids in our neighborhood, teaching us to think deeply about the world.
Bruce Byrd, my high school buddy, for trying to take me to meet Bonnie Raitt at a radio station, before most people knew who she was. I was just sure he was trying to get me to go out with him, and missed a great opportunity. Yes, we both still laugh about it. The musicianship of Bonnie Raitt and her band members have been a musical inspiration through all the years since.
Michael "Moose" Buchanan for helping me to appreciate "fills."
Charles Sawtelle for telling me I couldn't enter his house again until I got a better mandolin, for endless encouragement, and for opening my ears to world music. His musical reverence, taste and tone continue to inspire.
Ray Bonneville for indirectly showing me the wonder of a deep "groove," and for planting the thought of a healthier lifestyle.
Peter Wernick, Peter Ostroushko and Rob Griffin for encouragement, early on.
To Chuck Eppinger, for playing the "Moonlight Sonata" in a way that I was moved by the emotion of it as a teenager…and for showing me the harpsichords he built. It happened quite randomly one summer night when I was looking for his son and my friend Paul. I didn't recognize it as a turning point until much later in life.
To Jack Lowrey and his sons for playing jazz just for the sheer joy of it at our neighborhood parties. I learned as a youngster that you can have a blast playing and sharing music, even if you aren't a "virtuoso."
Jeff Hoffman (formerly of Mountain Music), Charley Gannon and Mary Whalen (formerly of Osprey Music), Rob Curci and staff (Spotlight Music), Kit Simon (The Olde Town Pickin' Parlor), and the people at Boomer Music for connecting students and teachers, and players with everything they need. Marc Cheatam (formerly of Finest CDs): a pal for 30 years, always with his ear in great music. And...
Clark Bennett (formerly of Colorado Drum and Percussion) for stocking really fun tools for rhythm exploration and teaching. Most of all, to Harry Tuft (Denver Folklore Center), for providing the store to support a lifetime of music. Visit these wonderful stores where you can shop locally for instruments, gear and music resources.
My brother Bill, The Mother Folkers, Mary Klueh, Neil Shropshire, Skip Cecil, BJ Gregg, Fran Rivkin, and Judith Fallat for being great musical buddies and friends.
Isabel Eccles, who showed me how to practice more slowy and meditatively than I ever thought possible, and for sharing her eclectic tastes in accordion music.
To Lorie Smith for validating that "success" in life can be a result of how many people you have helped, and her extraordinary patience.
To George, for inspiring my exploration of African music, R&B, the roots of Rock –n– Roll and guitarists and brief, powerful musical statements.
Marilyn Mair for her inspired learning, living, sharing, teaching and AMGuSS.
Ralph Constanza, for teaching me the most excellent "floppimosso" tremolo technique and to "play the rests." It started a new look into use of silence and space, for which I'm very grateful.
Harry Tuft, for supporting and encouraging thousands of musicians (if not more) and providing a great store, and jamming bench at the Denver Folklore Center since the early 60s. He's always there at the right time, with just the right words, with a kind smile and a twinkle in his eye.
Doug Fried, Pete Simon, Joe Turk and Bob Terrill, inspirations in tasteful, moving and knowledgeable public radio programming.
All the great musicians, composers and songwriters, who keep making music, no matter what. For the people who hire them, and the folks that build their instruments.
Web Design and Marketing:
Ministers of Hope and Web Space: Steve Wall and Reenie Terjak
Minister of Line and Color: Jeff Maust
Minister of Server Space: Michael Haynie
Minister of Word Grace: Don Condit
Minister of Headspace: Sam Cooper
Photography: Thanks to Bill Cotton and Ken Katona
Help with Photos: Bonnie Carol, Jude Hibler, Jon Thomas, Mike Kemnitzer, Mark Machacek, Peter Mix, Michael Bashkin and Dennis Stevens
Use of instruments: Marilyn, Mark, Mike and John
Home-cooked meals!: Jim Welch, Renee Choury, Tam Wahl, John Gless, The Kohnen-Siegfrieds and RudiDog. Sandwiches!: Fran and Amy.
Elbow grease: Norma and Dennis, Michele and Rick, Lisa and Bill, Katie and Dan, Debora, Natalie, Jim and Renee, Tina and DZ.
Funds and sustenance: Carol, Amy, Frank, Debbie, RudiDog, Michele, Mark, Chris, Shay, Lucas, Tom, Lorie, Sally, Jan, Sami, Tam, Renee, Tina, Mary, Judy Mc, Darrin, Rusty, Michael, Bob, Tim, and those folks who have contributed in anonymous and splendid ways to create the time to make this web site possible.
Deep gratitude to "Team Oofta" for sharing the journey!
"Gratitude is the memory of the heart."
—Jean Baptiste Massieu
"I consider Jazz music as a gift from God."
—Shelley Rhym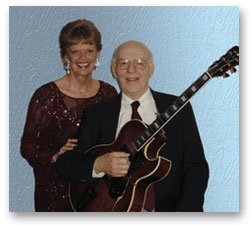 Jude Hibler and Dale Bruning, partners in Jazz Link Enterprises
"Music is the silence between the notes."
—Claude Debussy
A quote which hangs in Dale Bruning's studio: "I have always clung fast to these fundamentals: That music was given man so he could express the best he was capable; that the best he was capable had to do with his deepest feelings; that his deepest feelings are rooted in what I believe to be a moral order in the universe which underlies all real existence."
—George Rochberg, Composer